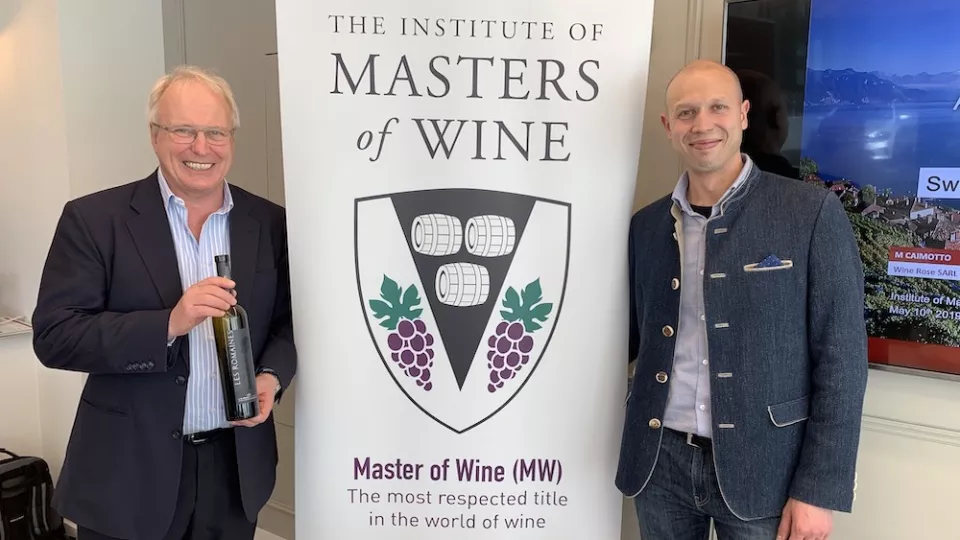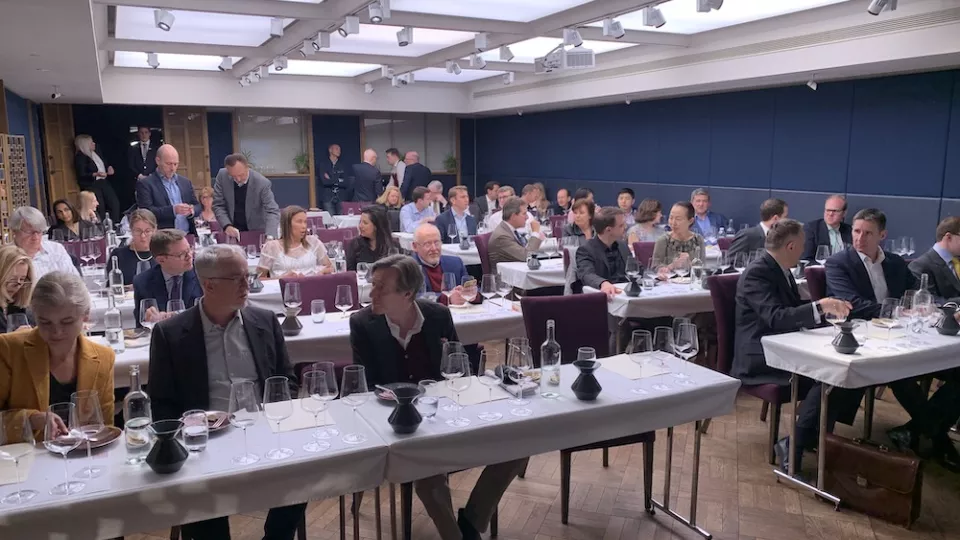 Swiss wine on tour in London 2019
The Swiss vineyards are the size of the Alsatian (150 sq.km.) however they are more difficult than the later to find in London (UK), in part because of some ill informed misconceptions.
First misconception: everything branded Swiss is expensive
While we do not massively export our entry level wines because they are comparatively expensive due to the mostly mountainous and hard to mechanise nature of our country. 
 
Our quality wines however, since they are relatively unrecognised, are a real and affordable catch. For example a simple tour at Hedonism Wines in Mayfair, London, will demonstrate that the Syrah Cayas 2016 by Domaine Germanier is listed at 48£ between its Northern Rhone competitors, a St Joseph Rouge 2016 by Domaine du Tunnel at 39£ and a Cornas 2016 by Domaine de Saint Pierre Jaboulet at 49£. Similar Pinot Noir examples abound.
Second misconception: Swiss wines are difficult to find
It is true that not all restaurants in London carry Swiss wines on their wine list and that most bottles produced are sold and drunk on the Swiss market leaving a modest 1% for exports.
 
Type "Swiss wines in London" in the search bar of the most used search engine and it will return good addresses you can buy Swiss wines from in the UK such as Alpine Wines, Hedonism Wines, The Sampler. 
  
To be internationally recognised is a must for any given wine country and for the past four years Robert Parker's Wine Advocate experts have rated Swiss wines and they have been regularly listed in Decanter's World Wine Awards.
One day in London, three master classes
For the past four years we have organised discovery days for professionals and enlightened amateurs in London (walk around tastings, master classes and get together events) at locations such as Hedonism, the IMW (Institute of Masters of Wines) or 67 Pall Mall.
 
This year was no exception and with the excellent support of my two accomplices Michele Caimotto (Buyer and sommelier at Winerose) and Simon Hardy (a WSET diploma holder and owner of Fitting Wines), we have produced three master classes in one day:
Chasselas: a Swiss terroir revealer hosted by IMW
Chasselas had to be on the list as it a defining white grape for Switzerland and represents a quarter of the total wine production. Michele Caimotto presented three pairs of Chasselas wines produced in three different regional terroirs followed by a vertical tasting of two Chasselas wines from two reputed winemakers over three vintages: 2001, 2010 and 2016.
Switzerland and its rare and defining grapes hosted by IMW
Presented by Michele Caimotto our hero grapes contribute to the identity of Swiss wines: Chasselas (again), Arvine and Räuschling for the whites and Humagne Rouge, Cornalin and Gamaret for the reds. Apart from Chasselas, which can be found in France as a table grape, the varieties are not grown elsewhere.
Pinot Noir - the great hidden gem of Switzerland hosted by 67 Pall Mall
Simon Hardy provided a rare tasting of great Pinot Noirs from Switzerland. In Simon's own words: "When you think of Pinot Noir, without hesitation you think of Burgundy. You might also think of California, Germany or New Zealand. But there will be no thought given to Switzerland, despite the surprising fact that Pinot Noir is the country's most planted grape variety, in my opinion the best-kept secret of Swiss wines."
For this last event the St James room was packed with 52 passionate people, which demonstrates that Swiss wines generate interest and deserve to be more frequently listed in restaurants. 
Should you be interested to know more or join future Swiss wine events please let us know.
More information
Speakers
Simon Hardy (WSET), Fitting Wines - http://www.fittingwines.com
Michele Caimotto, Winerose Sàrl - https://winerose.ch
Jean-Francois Genoud, Eudis-Consult - https://www.eudisconsult.ch
Where to buy swiss wines in the UK
Alpine Wines - https://www.alpinewines.co.uk
Hedonism Wines - https://hedonism.co.uk
The Sampler -  http://www.thesampler.co.uk
General
Contact - info.uk@swisswine.ch
Swiss Wine (The official portal for Swiss vine and wine) - https://swisswine.ch
Swiss Fine Wine (The ultimate international guide to Swiss fine wines) - http://www.swissfinewine.ch
Wines tasted
Chasselas tasted at IMW
 
2001-2003-2010-2016 Domaine de Beudon (VS, Fully), Fendant
2001-2003-2010-2016 Domaine La Colombe (VD, Féchy), Brez                               
2017 Domaine JR Germanier (VS, Vetroz), Fendant Balavaud
2017 Domaine des Muses (VS, Sierre), Fendant Tradition
2016 Domaine de Montmollin (NE, Auvernier), Goutte d'Or     
2017 Luc Massy (VD, Epesses), Chemin de Fer
2015 Domaine A Villars, (VD, Fechy), Hommage à Rosset
2017 Cru de l'Hôpital (FR, Morat), Fichillien
Rare Swiss and defining grapes tasted at IMW
2016 Domaine de Beudon (VS, Fully), Petite Arvine
2017 Provins / Clos des Domaines (VS, Sion), Petite Arvine Tourbillon
2017 Bechtel-Weine (ZH, Eglisau), Raüschling          
2018 Schwarzenbach (ZH, Meilen), Raüschling
2017 Domaine JR Germanier   (VS, Vetroz), Humagne
2016 Domaine des Muses (VS, Sierre), Humagne Tradition   
2016 Zufferey Maurice (VS, Sierre), Cornalin Vriong
2016 Histoire d'Enfer (VS, Corin), Cornalin Calcaire
2016 Les Frères Dutruy (VD, Founex), Gamaret Les Romaines
2016 Domaine Henri Cruchon (VD, Echichens), Gamaret
Pinot Noirs tasted at 67 Pall Mall
2012 Domaine Les Balisiers (GE, Pessy), Pinot Noir 
2012 Domaine La Colombe (VD, Fechy), Colombe Noire
2017 Anne Müller (VD, Yvorne), Pinot Noir
2016 La Maison Carrée (NE, Auvernier) Pinot Noir Auvernier
2016 Marie Thérèse Chappaz (VS, Fully), Pinot Noir Malindzo
2014 Histoire d'Enfer (VS, Corin), Pinot Noir Passion
2014 Weingut Georg Fromm (GR, Malans), Selvenen
2014 Weingut Martin Donatsch (GR, Malans), Pinot Noir Passion
2015 Schlossgut Bachtobel (TG, Weinfelden), Pinot Noir No 3
2015 Weingut Urs Pircher (ZH, Eglisau), Pinot Noir